RS Taichi Kompass Air Jackets
₹19,999
Adventure style air-through jacket with 3D mesh on chest and back and mesh on arms inside.
It has high breathability and suits riding in summer.
To maintain safety, reflector panel are located on rear and front and CE lv.2 protectors are located on shoulder and elbow.
Notify Me when item is back in stock
This product is available on EMI
SIZE CHART
 External size of the product
・・・Please use it for comparison with other product numbers of our products.* External size including protectors and parts.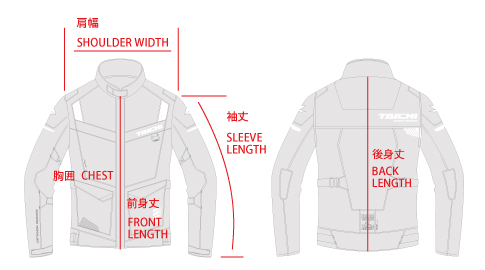 | | | | | | | | | |
| --- | --- | --- | --- | --- | --- | --- | --- | --- |
| SIZE | M | L | XL | XXL | 3XL | 4XL | WM | WL |
| FRONTLENGTH (cm) | 57 | 59 | 62 | 65 | 67 | 67 | 51 | 54 |
| BACKLENGTH (cm) | 68 | 70 | 73 | 76 | 78 | 78 | 65 | 68 |
| SHOULDER WIDTH (cm) | 49 | 51 | 53 | 56 | 58 | 60 | 42 | 44 |
| SLEEVELENGTH (cm) | 61 | 63 | 65 | 66 | 67 | 68 | 56.5 | 58.5 |
| CHEST (cm) | 111 | 114 | 118 | 123 | 129 | 134 | 102 | 105 |